Boxing Day Premier League Fixtures, Stats and Previews
As expected, all other country league in Europe are on break except the Premier League. That is why they are the most exciting league in Europe. Manchester United used to be the most favoured team during the festive fixtures until Sir Alex Ferguson's departure.
The festive Premier League results can be filled with shocks and there will be no surprise if any of the big teams drop points on boxing day.
Tottenham vs Southampton


In-form Tottenham welcomes plucky Southampton to Wembley stadium on a Boxing Day fixture. Southampton are not having the best of time in the Premier League this season. Currently standing 13th on the league table, Southampton are facing a difficult Tottenham and would be glad to steal away a point from Wembley.
Stats Preview:
The first of the eight Boxing Day fixtures in the Premier League (PL) this year is Tottenham vs Southampton. Spurs come into the match after an emphatic 3-0 win away at Burnley – in fact, Harry Kane alone scored as many goals at Burnley's ground than they had previously conceded in eight games (three).
In terms of the H2H, Tottenham have traditionally had a strong advantage when playing Southampton in London, with five wins in the last six. Christmas spirits? There has been a bit of temperature between the teams recently, with 23 yellow cards 0(3.83 on average) and one red over the last six H2H matches.
Tottenham initially had some adjustment issues with playing their home matches at Wembley, and failed to win any of their three first home matches of the season. Since then, however, they have had a healthy five wins and a draw. Furthermore, only Manchester United and Burnley (three), have conceded less than Spurs (six) at home so far this season.
Spurs at home and Southampton on their travels share a penchant for matches with few goals. At Wembley, Spurs have seen six of nine matches finish under 2.5 matches so far this season – Southampton have seen the same in five of eight away matches.
Including the three at Burnley, Kane has now netted 15 PL goals this season, and is top scorer in the league tied with Mohamed Salah. He's bagged 2+ goals in six league games already this season. He now has 36 league goals in 2017 – tied with Alan Shearer for the most PL goals in a calendar year. With matches still to come this year, he may well make the record his own against Southampton, who he has scored two goals against in nine matches.
The striker himself makes no secret of his desire to claim the record, and seems to be full of confidence as the Boxing Day fixtures approach, stating: "We wanted the second goal to kill the game and when I scored it, I thought 'right, let's get the hat-trick'. I was happy to put that one away, I'm really pleased. I can now go into the (Southampton) game on Tuesday and try to get the record, that would be a great achievement."

Chelsea vs Brighton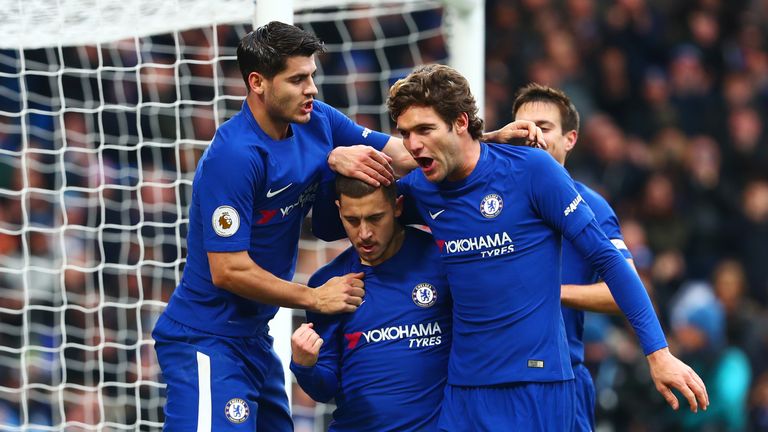 After the disappointment in their last outing at Everton, Chelsea will be looking to bounce back to winning ways against Brighton. They are still in the race to seal the second position spot ahead of United who also had a nightmare outing against Leicester.
Stats Preview:

Last year, Champions Chelsea were out of the blocks early and by Christmas they were already six points ahead of the pack. But even if they were having the same title winning season this year, the unstoppable train that is Manchester City would still be top and six points ahead.
The Seagulls are probably flying higher than most expected and have been the pride of the South Coast for most of the season. Sitting in the battle for mid-table, halfway through the season and only 19 points away from the 'magic 40-point mark', Brighton fans must be confident they will see Premier League (PL) football next season.
Some say Chelsea's unfortunate run in the title race this season is due to the amount of fixtures, and Chelsea coach Antonio Conte agrees seeing as he has often vented his frustration with the schedule. After their last two Champions League games they have failed to win their next fixture. Are Chelsea's players too fatigued this season?
In the PL, Chelsea have won their last five home games in a row, scoring ten goals – an average of two goals per game. There was a defeat at home before the winning streak began, but this was against the formidable Manchester City (1-0).
Brighton have lost their last three away games, conceding five goals, an average of 1.6 conceded per game. They do seem to struggle scoring away from home (five), and only one team has a worse record – Crystal Palace (four). If Brighton do score it will most likely be between the 45'-65' minute, as 50% of their goals have been scored during this stage.
Head to head: For this we have to delve into the history books, back to the 1988/89 season in the old Division 2 when Chelsea beat Brighton twice that season (1-0 away and 2-0 at home). They also won the league that year with 99 points with a lead of 17 points over Manchester City.
After Brighton's win over Watford, coach Chris Houghton spoke frankly about this upcoming fixture: "We've got Chelsea on Boxing Day and there won't be too many that fancy us or expect us to get anything there. With that being the case in particular, it was important that we picked up something and that allows us to go into that Chelsea game with a little bit more confidence."

Man United vs Burnley


Manchester United will be disappointed with themselves with the manner with which they lost to Bristol City at the Carabao Cup and being denied a vital 3 points against Leicester in last Premier League match, both goals being concede in the final minutes of the games. They will be looking to bounce back with a win against Burnley
Stats Preview:
Both sides come into this game on the back of disappointing results. Burnley lost out to Harry Kane and Tottenham (3-0 at home) while Manchester United suffered an injury time equaliser to draw 2-2 at Leicester.
Nevertheless, one would be hard pressed to say anything else other than that this will be a monumental task for Burnley at Old Trafford. The loss to rivals Manchester City here was a hard pill to swallow for the Red Devils, but apart from that match, they have been faultless in front of their own fans. All other eight matches at home have been won, and with a goal ratio of: 21:1!
Not likely to be fazed by stats however, Burnley have shown again and again this season that they can hold their own against supposed bigger sides. Sean Dyche's men are currently occupying a somewhat spectacular sixth place after 18 matches, just three points behind the Champions League qualification spots.
United boss, José Mourinho, was clearly frustrated after the team lost two points in the dying moments of the match against Leicester on Saturday: "We didn't win because we missed incredible chances. I would say joke chances.We did everything to win but when you lose big chances. Childish loss of possession, so easy. Childish in their box and childish in our box. We were punished with [losing] two points."
Recent matches have seen a return to scoring form for Romelu Lukaku. The big Belgian has ten goals in total this season, sprinkled with four assists. Against Burnley, he's managed two goals in four matches so far in his career.
In terms of the H2H, the last six matches have been close and hard-fought: there has been 24 (4.0 on average) yellows and one red card in these games, of which four of these ended with under 2.5 goals. In just one of those six matches both teams found the net. The latter statistic is nothing new for these teams, 14 of 19 Burnley matches have ended without both teams finding the net, 11 of United's 19 have finished the same.
Every goal counts! Thirteen of the teams in the league currently have a 'goals to points' ratio of close to 1.0 (plus or minus three goals). Burnley, however, have a ratio of 2.0. They have taken 32 points despite only scoring 16 goals! By far the highest points payoff per goal in the league.