Infographic Stats to Wet Your Appetite Ahead of Weekend's Manchester Derby
It promises to be another weekend of exciting football as the top two teams in Premier League clash. It's not just a fixture, it is the Manchester derby. Both have been in great shape all season and while we look forward to the match, we remind you of the rivalry that had existed between the two managers, Pep Guardiola and Jose Mourinho.
Last season, while Pep had the better over his rival in the league, smashing an important 4-point from the two meetings, Mourinho men beat Man City through their way of winning the EFL. This two great managers have been rivals since their days in Spain with Barcelona and Real Madrid. There has been much debate as to who is the better manager, well stats don't lie.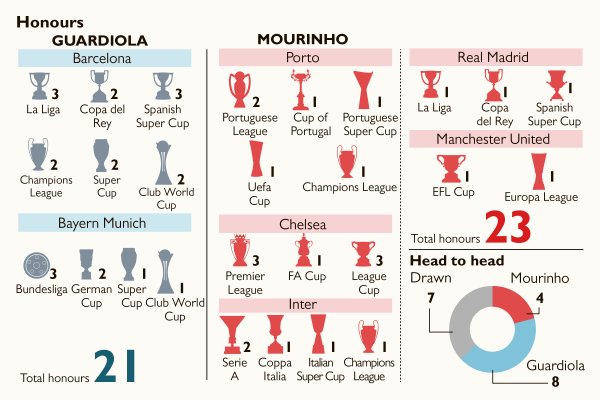 Image Credit: Timesport
Both managers' achievements have been a close encounter. While Guardiola has won major league titles with two teams, Barcelona and Bayern Munich, he has won the Champions League with only one. Meanwhile, Mourinho has won the league with four different clubs in four different leagues, he has also won four European titles (2 Champions League and 2 Europa League). While it is impossible to base who the best manager has been based on this, it is easy to say Mourinho has had more trophies with more clubs while Guardiola, now at City, is just in his third club of his coaching career, two of which he has won major trophies.

What is your assessment of the Infographic Stat above. Leave a comment