Man United Spending on Players Was No Coincidence – See Top Football Club Earners
Manchester United recently completed the swap signing of Sanchez from Arsenal and the reported wage offered to the player was outrageous such that it was believed the player dumped Man City for United's money.
However, rival managers including City's Pep Guardiola have hailed United's spending prowess and their ability to generate their financial resources internally. These comments coincides with the latest publication which reveals Man United have pipped Real Madrid to the top most earner football club in the world.
Published just eight months after the end of the 2016/17 season, the Money League is the most contemporary and reliable independent analysis of the clubs' relative financial performance.
Aggregate revenue for the top 20 Money League clubs rose 6% to €7.9 billion (£6.8 billion) in 2016/17, a new record, with the top three clubs – Manchester United, FC Barcelona and Real Madrid – earning a combined revenue of €2 billion for the first time.
Manchester United retained top spot for a second consecutive year, generating total revenue of €676m (£581m). This year's battle for first place was the closest in Money League history, just €1.7m (£1.5m) separated Manchester United and second place Real Madrid: United's win in the Europa League Final proving critical in the club topping our list for a tenth time. Real Madrid moved back above FC Barcelona into second place thanks to strong commercial growth in 2016/17 and a title winning season in both domestic and European competitions, with Bayern Munich and Manchester City making up the remainder of the Money League top five.
A place in the top 20 now requires revenue of approximately €200m, a 16% increase on last year and double the amount required in the 2010 edition of the Money League.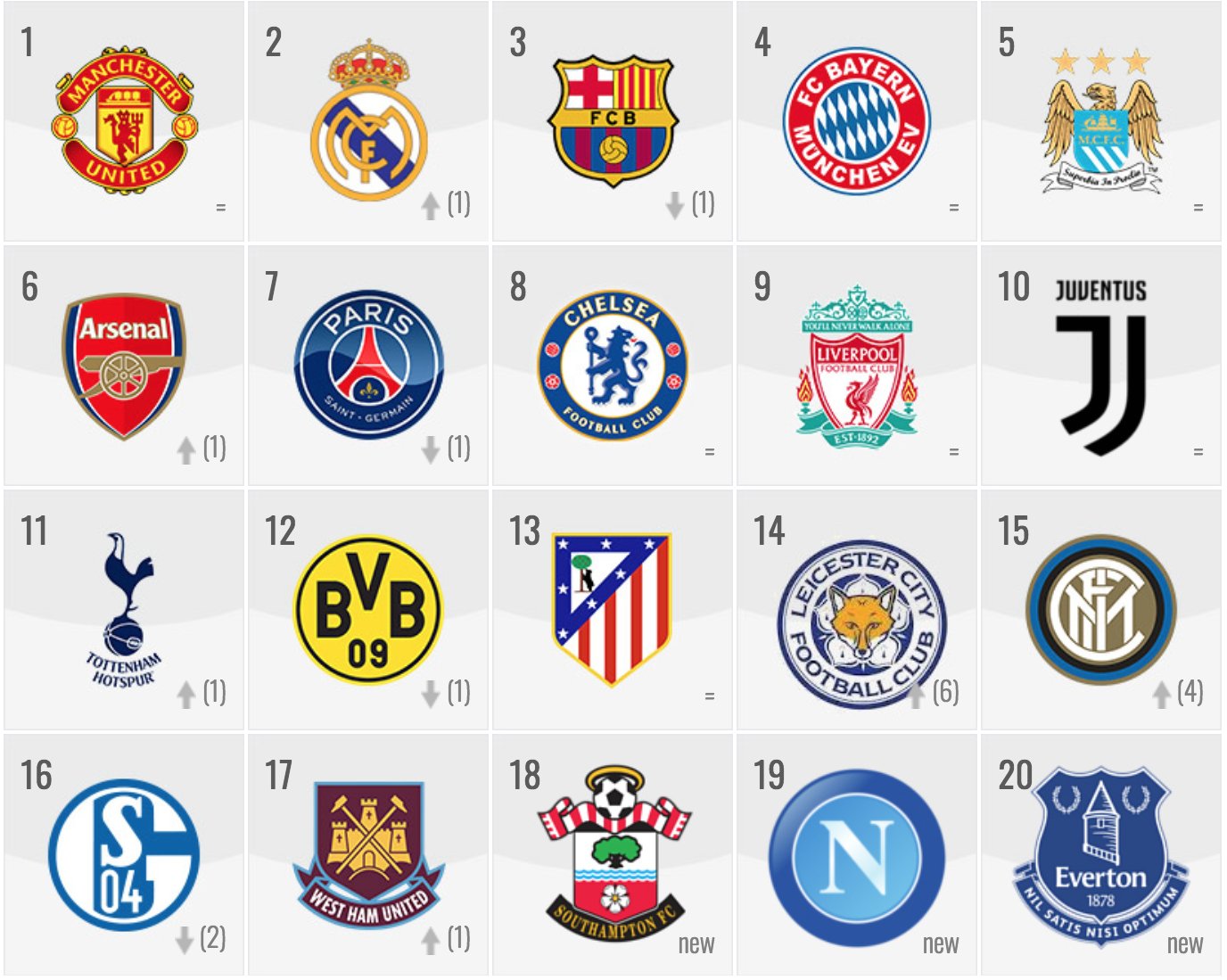 Premier League continues to dominate
The English Premier League has ten teams in the top 20 this year, the highest ever from one country, with Southampton (18th) making their debut in the Money League top 20, Manchester City consolidating their place in the top five, and Leicester City rising to 14th, from 20th last year. Outside the top 20, there are four more English clubs ranked 21-30, including AFC Bournemouth who debut in 28th place.
In the longer term, changes to the Champions League format from 2018/19 and the new Premier League domestic and international broadcast rights agreements commencing in 2019/20 will be key influencing factors on the membership and order of clubs in future editions of the Money League.