Same Old Story For The Typical Robin Hood of Premier League
Last night, Liverpool showed the world why they cannot compete for the league title despite fine attacking style of play under Jurgen Klopp. Just ten days after running rag against table topper Man City, they failed to register a single goal against bottom placed Swansea, losing 1-0 at Liberty stadium.
Liverpool are likened to Robin hood… There are no doubts that Jurgen Klopp has been doing a great job in Liverpool. Since he joined the club in fall 2015, the Reds have become a real force in the Premier League able to defeat any top club. However, Liverpool can also be beaten by anyone.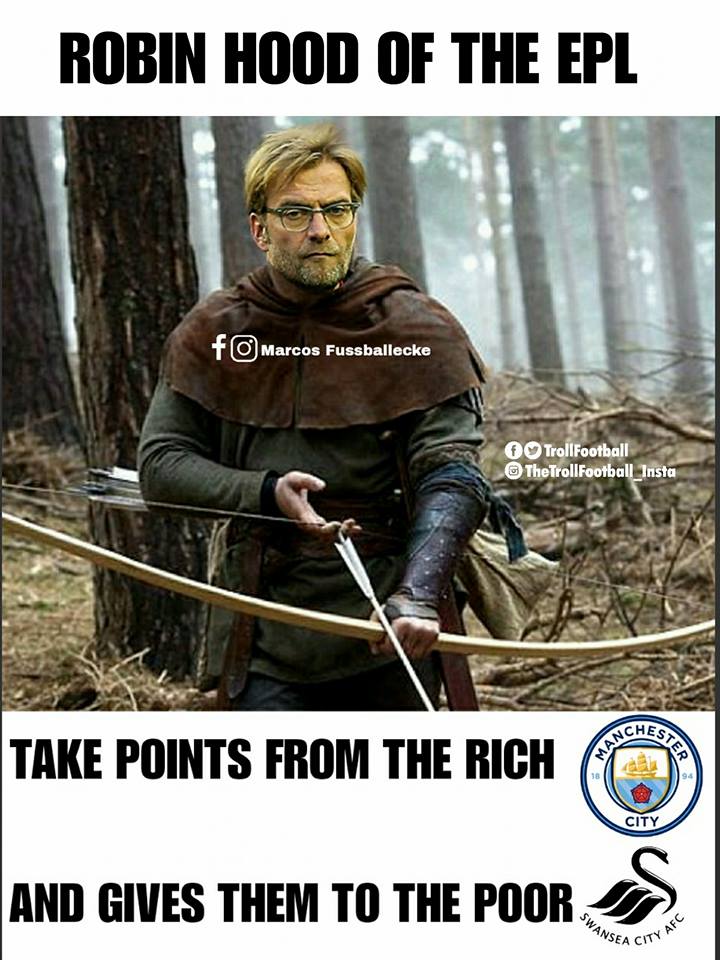 Losing to bottom-placed Swansea was the last thing any Liverpool fan would have expected after an Emphatic 4-3 victory over Man City just last week. Much have been said about Liverpool's chances of challenging for the title in the nearest future. A team with the likes of Salah, Mane and Firminho in attack, you would wonder why they wouldn't even win the league.
The loss may mean that the chances of Liverpool making top four by the end of the season may be threatened. Arsenal have lost Sanchez to Man United but got Mhkitaryan in return, they are also in for Dortmund's striker, Aubamayang. These signings could charge Arsenal season to making top four. Tottenham are a very strong team and hardly lose to lower teams. If Liverpool have to be in Champions League next season, they shouldn't be giving away points in fixtures such as Swansea.